No, it's not that they are turn­ing away from technology…
In a world increas­ing­ly dom­i­nat­ed by dig­i­tal trans­ac­tions and the con­ve­nience of plas­tic, there is a remark­able shift hap­pen­ing among Gen Z, the tech-savvy and for­ward-think­ing gen­er­a­tion. Sur­pris­ing­ly, they have redis­cov­ered the allure and prac­ti­cal­i­ty of cash, embrac­ing it with fer­vor in a way that defies con­ven­tion­al wis­dom. No, it's not that they are turn­ing away from tech­nol­o­gy; they're using Apple Pay 44% more than oth­er gen­er­a­tions. But amid two years of soar­ing infla­tion that has rav­aged house­hold finances, Gen Z has turned to cash as a pow­er­ful bud­get­ing tool, uti­liz­ing it more than any oth­er gen­er­a­tion. This uncon­ven­tion­al per­spec­tive does­n't chal­lenge the notion that dig­i­tal pay­ments are the way of the future, but does offer a fresh and intrigu­ing per­spec­tive on finan­cial management.
70% of Gen Zers are using more cash vs last year
Data Cred­its: Cred­it Kar­ma Online Survey
A Desire for Tan­gi­ble Control
Gen Z, grow­ing up in a dig­i­tal age where trans­ac­tions are often intan­gi­ble, may find com­fort and a sense of con­trol in phys­i­cal­ly han­dling cash, allow­ing them to visu­al­ly track their expens­es and avoid the temp­ta­tion of overspending.
Sur­pris­ing­ly, con­sumers tend to unleash their inner shopa­holic when swip­ing their cred­it or deb­it cards, with stud­ies indi­cat­ing that they splurge up to a stag­ger­ing 83% more com­pared to when they uti­lize the age-old method of exchang­ing cold, hard cash. This begs the ques­tion: Why does the sim­ple act of phys­i­cal­ly relin­quish­ing our own mon­ey pro­voke a moment of con­tem­pla­tion, while the abstract nature of card trans­ac­tions dis­con­nects us from the imme­di­ate real­i­ty of our expenditures?
The lack of tan­gi­ble inter­ac­tion with our finan­cial resources cre­ates a dan­ger­ous blind spot. When we choose the plas­tic alter­na­tive, we are shield­ed from the harsh truth of our spend­ing until the dread­ed bill arrives at our doorstep. In this delayed rev­e­la­tion, we find our­selves grap­pling with a dis­tort­ed per­cep­tion of our finan­cial real­i­ty, unable to accu­rate­ly gauge the mag­ni­tude of our expen­di­tures in the heat of the moment.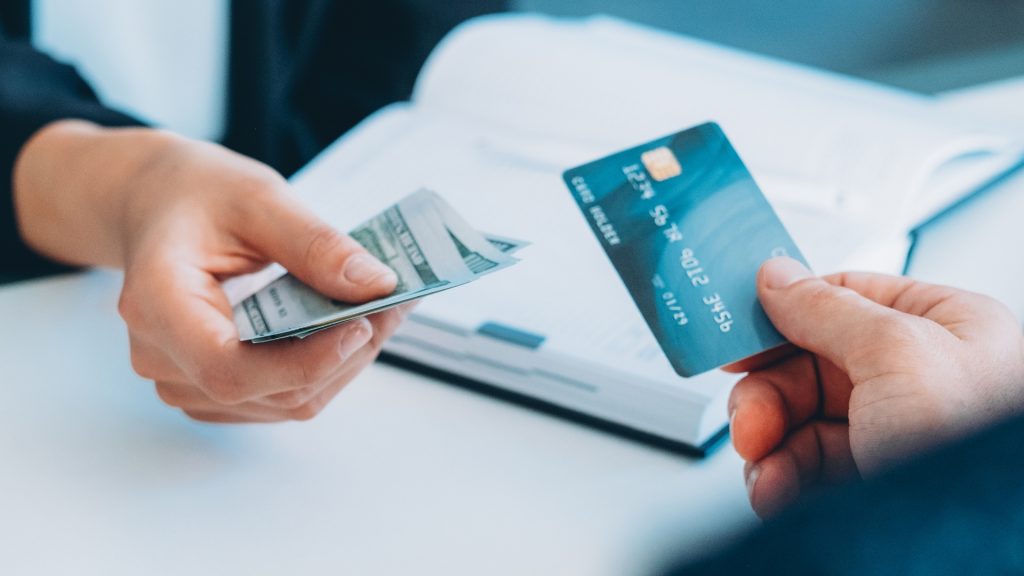 How­ev­er, the con­trast becomes vivid­ly appar­ent when we reach into our wal­lets and hand over phys­i­cal cur­ren­cy. In that fleet­ing moment, as we wit­ness our hard-earned cash leav­ing our grasp, a pro­found pause engulfs us. It is in this sus­pend­ed state that we are grant­ed a pre­cious oppor­tu­ni­ty to reflect upon the true val­ue of our mon­ey and weigh its worth against the desired pur­chase. The phys­i­cal­i­ty of cash, with its tan­gi­ble weight and intrin­sic con­nec­tion to our toil, serves as a pow­er­ful reminder of the effort required to earn it, forc­ing us to delib­er­ate before releas­ing it from our possession.
The mere act of touch­ing, feel­ing, and part­ing ways with our phys­i­cal cur­ren­cy trig­gers a men­tal switch, prompt­ing us to eval­u­ate the sig­nif­i­cance of each expen­di­ture and ques­tion whether it aligns with our pri­or­i­ties and finan­cial well-being.
Finan­cial Literacy
Faced with high­er inter­est rates and the poten­tial cost­li­ness of cred­it, Gen Zers, as a gen­er­a­tion, may be more inclined to take a step back and reeval­u­ate their finan­cial decisions.
When infla­tion starts wreak­ing hav­oc, the finan­cial world brings out its secret weapon: high­er inter­est rates. Pic­ture it as a super­hero swoop­ing in to save the day, caped in the cloak of mon­e­tary pol­i­cy. These ris­ing rates have a super­pow­er of their own: they make cred­it a tad prici­er for both com­pa­nies and con­sumers. Why, you ask? Well, it's all about putting a damper on their spend­ing and invest­ment enthu­si­asm. With cred­it becom­ing more expen­sive, the allure of instant grat­i­fi­ca­tion takes a hit. Com­pa­nies think twice about launch­ing new projects, and con­sumers might recon­sid­er those impulse buys they were eyeing.
In essence, the con­trast­ing expe­ri­ences of card and cash trans­ac­tions under­score the bat­tle between impul­siv­i­ty and mind­ful­ness in our finan­cial choic­es. It's unde­ni­able that Gen Z has grown up in an era where finan­cial lit­er­a­cy and bud­get­ing resources are more acces­si­ble than ever. They under­stand the impor­tance of bud­get­ing and see hold­ing cash as a way to enforce dis­ci­pline and stay with­in their finan­cial limits.
The 2022 Investo­pe­dia Finan­cial Lit­er­a­cy Sur­vey reveals that Gen­er­a­tion Z adults, aged 18–25, active­ly seek men­tal health sup­port, boast greater diver­si­ty, and are bet­ter-edu­cat­ed com­pared to pre­vi­ous gen­er­a­tions. While it's impor­tant to avoid gen­er­al­iza­tions, it's plau­si­ble to sug­gest that Gen Z, being mind­ful of their finan­cial well-being, may exhib­it more cau­tious spend­ing habits inher­ent­ly.
Bot­tom Line
It's worth not­ing that Gen Z's finances were wrecked-apart by the pan­dem­ic: 43% of indi­vid­u­als aged 18 to 24 found them­selves strug­gling to keep up with cred­it card bills, rent, and var­i­ous oth­er finan­cial oblig­a­tions. With lim­it­ed incomes and the need to man­age their expens­es amidst mount­ing eco­nom­ic pres­sures, Gen Zers have rec­og­nized that cash offers a con­crete rep­re­sen­ta­tion of their finan­cial resources. A part of this surge in pop­u­lar­i­ty can also be attrib­uted to influ­en­tial voic­es on plat­forms like Tik­Tok, where pro­po­nents of cash stuff­ing have shared their suc­cess sto­ries, reveal­ing how this bud­get­ing tech­nique has enabled them to save more mon­ey and low­er their month­ly expenditures.