A key Fed interest rate meeting is coming to a decision today at 6:00 PM GMT. The consensus is a 0.75% hike, and we'll be sure to stay updated with the latest updates as they happen.
Economic production and employment typically decrease simultaneously during recessions. However, unemployment remains historically low in 2022. In August, the official unemployment rate was 3.7%. Without a doubt, we are currently facing a puzzling economic situation. "Recession is not the right term to define this situation."
Investors are looking for clues from the Fed's rate hike as to how much money is getting pumped back into the economy. The market has been more or less flat since August 2021, and based on other data, one could attribute this to a slowing in economic activity. Investors are looking for clues on whether or not this slowdown is over and, if not, when it will be over.
One thing is certain though: We need to see something happen soon so that investors can be confident that this "recession" isn't going to drag on forever.
Ahead of this meeting, stocks have taken a little boost over the course of Wednesday; S&P 500 futures are up by 0.44% as at 2:15 PM GMT. It's possible that investors feel that a rate hike of 0.75% is quite normal! If the hike is lower than that, the stock prices could see a jump-up-of-relief.
Investmentals.com analyst, Jordan Martin, stated: "This is the decisive meeting. The Fed will say whether it wants to hike, hold, or drop the stock market. I expect the stock market to react positively if the hike does not surpass the 0.75% interest rate hike consensus.
The interest rate hike is also expected to take mortgage rates with it. It has been no more than a week, the mortgage rates reached 14-year highs.
After reaching the 4818.57 high in the 1 Month chart in December, some traders are assuming these past few months are a pullback and will eventually continue the uptrend.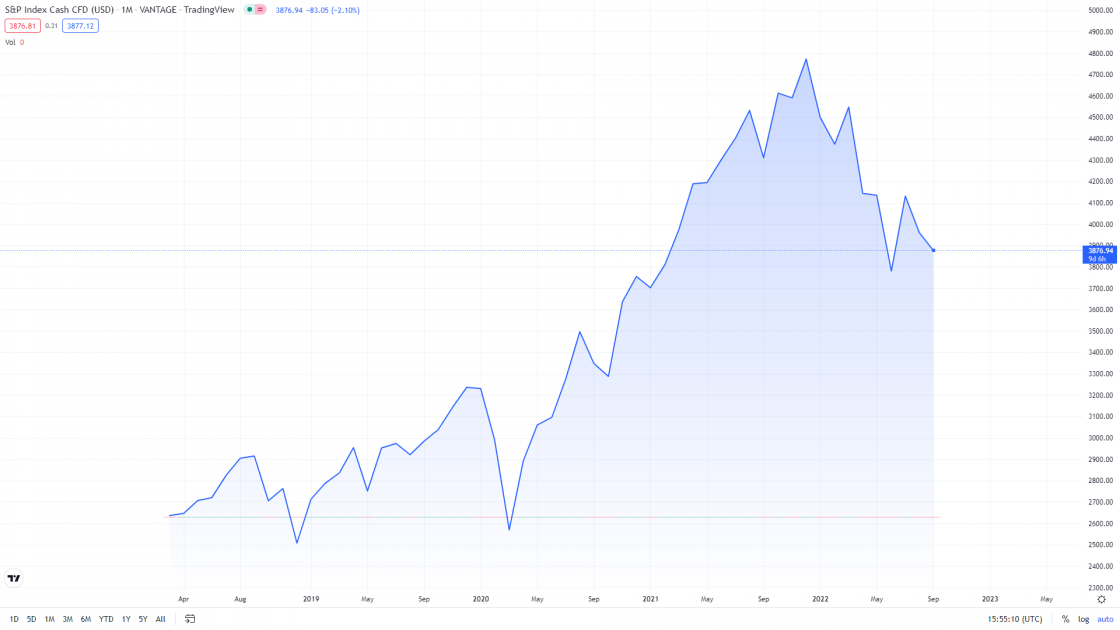 However, trends change, and if the S&P 500 remains in the range of 3637.46 to 4327.51 for the next couple of months, then the odds of a long-term decline might increase.
If the Fed goes all in with a >1% hike today, it will severely impact the stock market and possibly even initiate a crash.
A professional trader and technical analyst for more than 20 years, Kylie Peterson is going to show how this could happen with her detailed analysis: Stay tuned, and Join our Advanced Market Analysis if you haven't already.