In this post, we'll go over some ways to talk to your kids about handling money from an early age so they can grow up understanding it better than you do.
Money is an important part of your life, and you want to make your kids know how it works. A few dollars here and there, a large purchase every now and then, or a lot of money for one big decision. You need to know about money to make it work for you.
No matter what happens with the economy, the general advice on how much you should spend on necessities like food and rent doesn't change- whether you have a lot of money or not too much at all. In this post, we'll go over some ways to talk to your kids about handling money from an early age so they can grow up understanding it better than you do.
How to talk to your kids about money?
Well, first of all, let's make sure that you aren't talking to them about it too much. After all, children tend to remember things better if you tell them often enough. So if you pay one weekend morning, tell your kids bit by bit every night where the money went.
If you have limited income, explain to your children why sometimes you have to get cheap things and why sometimes you can afford expensive things as long as it's on sale.
Talk to your kids to teach them that money is not something they just go out and spend without thinking. If they don't have their own money, they'll have to put in a lot of effort to earn some. Instead of giving them money directly, teach them the value of money. You can discuss saving and spending with them by having them keep a pocket for their allowance or money that you give them for their birthdays. Explain how things you buy usually last longer than freebies from stores and other sources (unless the store is selling things that are made so cheaply that eventually, the item will break).
If they want something special, like an expensive toy, try to explain to them how they'll have to work hard on their responsibilities by doing chores or scoring high on their work in school. Try to be a good example. A good way is by saving money for things you want (and try not to be cheap). You don't need the latest and greatest iPhone or a new pair of shoes every week or two.
Teach your kids about values, not figures!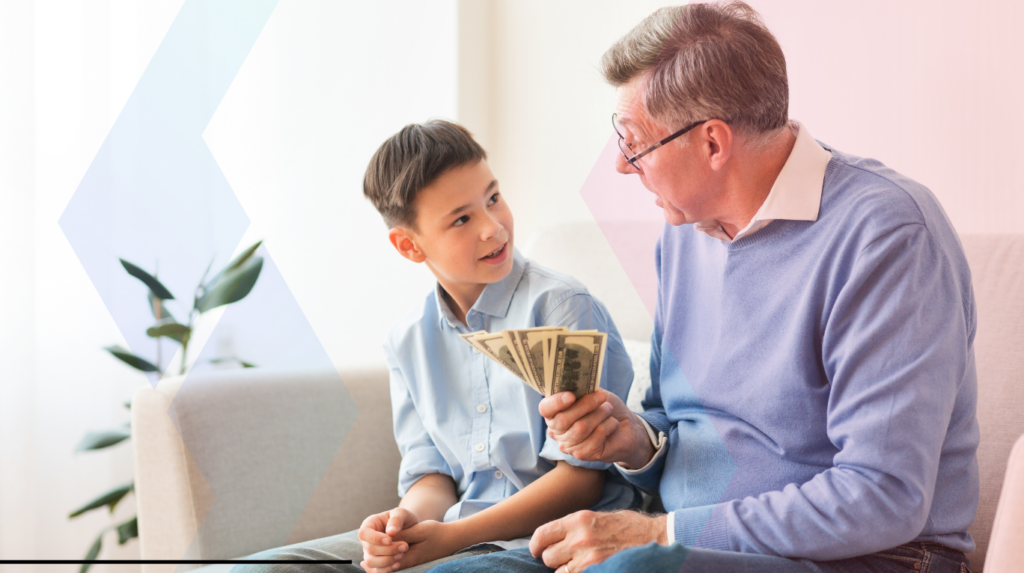 Teaching your kids about money starts with teaching your kids about values. As parents, we want to up-skill our children as much as possible so they don't have to experience the difficulties that come with life's challenges when they get older, but we also want them to know how much hard work it takes to earn something, or how important spending time on the things you love is.
Many of us have been raised with the idea it's better to give than receive, and how material possessions can be not only a burden but also an inhibitor to what you truly want out of life. When properly focused on giving our kids the opportunity to succeed in life does not depend on them earning more than their friends. In fact, that could actually hurt their success.
Paying for success isn't just about reading your kid a book about how hard it is to earn money – though that's important as well. Instead, we should encourage them to practice making a few good choices along the way so they develop good work habits and learn discipline through experience.
If you talk about figures, it will have a negative impact on their actions. This is true of anything that involves money – how much you earn, how you spend your money, or even how you save it for the future. It can also be true of things that are not money related – such as how many hours of TV your child watches or whether they eat breakfast every day. These things are easy for kids to get wrong when their minds only see the choices in black and white.
If we spend enough time teaching our kids about the importance of financial responsibility, they will learn not to waste their hard-earned dollars on frivolous items, and they will develop a good work ethic because they understand what it takes to succeed in life.
How to talk to your kids about money without being too negative?
Of course, money is often obtained by working for it, doing something useful for someone else that pays you for it. And kids should learn the importance of work and getting a job. But it's important that you do this in a good way. Explain to them what kinds of jobs are available to them, like waitressing or bartending, and that they could find one somewhere by checking online or in the newspaper.
If you have a limited income, make sure your kids know that there will be some things they want but can't afford. For example, if you only have enough for rent or food for a week, tell them: "We can't buy this toy or go to the movies because we won't have money left." Say that sometimes people gain money from odd jobs (like babysitting) to get by until they find something else.
This should help your kids understand that money comes from hard work and something useful you're doing for someone else. They will feel bad when they don't have enough money to buy things they want or need.
You can tell them about a time you struggled with not having enough money to pay for the basics like food and explain the importance of having a job even if it's not your dream job. If you are struggling, say that someday they might be too and will have to work hard at getting another job as well. It's also important that you talk to your kids about how to budget their money so they know what they can spend now, what they will have left after this week and next month, etc.
Highly Recommended YouTube Video:
---
Should I let my child spend their own money?
I have been asked this question many times. As a parent, you always want to keep your kids safe – and that includes letting them spend their money on their own. And that's why you should let your child spend his or her own money! This will help them develop good financial habits and learn what it means to maintain a budget. As I've said, you don't have to buy them everything they want – but in the interest of teaching responsibility, why not let them make a few mistakes with their money?
Kids will often want something smaller that costs more because they don't understand what makes the cost go up. By letting them spend their own money, you are making sure they don't get too wrapped up in the experience of having some money (and other kids will see that, too) and instead focus on the responsibilities it entails.
You should also keep in mind that spending a lot of your child's money may make them worry more about it. If they have to ask for credit cards and such, they may end up really thinking about money and being more careful with it because they know all the things they can buy! Many kids have trouble getting over this feeling – so make sure you let them spend their own money, but limit their spending to a reasonable amount so they can learn the value of the dollar and how it works in our economy.
Spending your own money on fun things is all well and good, but your kids should also know that there are times when you have to spend money on things that aren't as fun. When they go grocery shopping with you, they will notice – and ask questions. Show them how sometimes you have to do things that don't seem fun but need to be done anyway, like doing the laundry or fixing a broken toy. That will help them understand why we need to spend money on non-fun things sometimes instead of just saving up for the next great thing they want.
Bottom Lines
Sometimes when you try to explain money to your kids, they get confused and think that Mom or Dad has too much money. You can say something like, yes we do have some money, but it's all used up because of the things we buy.
Please take care that talking about money should not make your children feel bad about it. Keeping that in mind, though, you should make them know why there are times when they will have less food than others, why sometimes rent is more expensive, and why clothes don't always come in sizes from one to ten (or one to two). It's also important that you tell them that once they're older, they can understand the difference between a fancy car and an "I got mine" car.
What you teach your kids about money, decides more than 50% of how they are going to do financially. Therefore, you need to take this seriously, and even get yourself mentally well-prepared prior to talking to your kids about money.