Tesla Inc. (TSLA), with a market capitalization of nearly $635.37 billion, is currently one of the largest companies in the world. The company's stock has seen tremendous growth over the past decade, with its share price increasing by more than 5,700%. While institutional investors like The Vanguard Group, BlackRock Fund Advisors, and SSgA Funds Management hold a combined 15% of the company's outstanding shares, retail investors own 43.16% of Tesla's stock.
Tesla has a total of 3.16bn shares outstanding, according to data from Nasdaq.
Tesla's CEO Elon Musk is the largest individual shareholder of the company, owning 412.6 million shares, equivalent to 13.04% of the stock. Musk invested heavily in Tesla before its initial public offering (IPO) in June 2010, and his stake has grown to become worth roughly $84.89 billion as of March 10, 2023.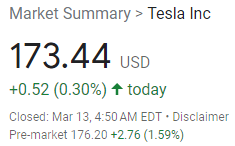 In order to make the stock more accessible to retail investors, Tesla initiated a 5-for-1 stock split in August 2022. This split reduced the share price of Tesla, making it more affordable to individual investors, while not changing the fundamental value of the company or the total value of shares owned. The second stock split was also approved to attract and retain talent through compensation packages.
Unlike almost all the other stock splits, Tesla's stock split had a positive impact on the stock price. Despite a 51% drop in 2022, Tesla's share price has been on an upward trend since, and was trading around 173.44 USD, +0.52 (0.30%), as of today.
Since the very beginning, institutional investors have had a major impact on Tesla's share price, and their activity has increased significantly during the quarter ended December 31, 2022. In this period, Susquehanna Financial Group LLLP, Bank of America, and BlackRock Fund Advisors bought a net of 27.6 million shares combined.
The largest mutual fund stake in Tesla is held by the Baron Partners Retail Fund, which leads all US mutual funds with approximately 52% of its assets in Tesla shares. However, the fund fell nearly 43% last year, while the Zevenbergen Genea Institutional fund, which has 13% of its assets in Tesla, fell nearly 59%.